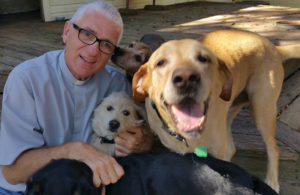 Sacred Heart of Jesus American National Catholic Church will host the Blessing of the Animals on Saturday, September 30 at 3 p.m.
It will be held on the lawn of Grace Methodist Church located at 380 Kearny Avenue, Kearny. All are welcome, regardless of religion, to bring their pets to receive a blessing. It is requested that all animals be properly leashed or in pet carriers.
This event commemorates the upcoming Feast of St. Francis of Assisi which occurs on October 4. St Francis of Assisi was a 12th Century monk who lived and preached in Italy. He was the founder of his religious order and has been the inspiration for religious orders and for the faithful throughout the centuries. He is recognized as the Patron Saint of animals and of ecology and the environment. Among his most recognized writings are his Canticle of the Sun, which is a hymn of praise to God in which he refers to all the elements of creation as his brother and his sister, and his prayer for peace, Lord make me an instrument of thy peace…, which is recited and sung in churches throughout the world to this day.
____________________________________________________________
All are welcome to join us
every Sunday at 12:30 p.m.
380 Kearny Avenue, Kearny, NJ 07032
—————————————————————————————————-