Our Pastoral Team
Father Paul Gulya (Pastor)

Father Paul Gulya was appointed the pastor of Sacred Heart of Jesus parish in April 2017. Father Paul was one of the founding co-pastors of the parish in 2013 and most recently served as a supply priest for various parishes of the ANCC and also for other parishes in an ecumenical capacity.
He also served as chairperson of the ANCC national convocation this past summer. Father Paul along with Deacon Pat Kane are the Vocations Directors for the ANCC.
Father Paul is a bi-vocational priest maintaining his priestly ministry in addition to a successful career as a Realtor marketing and selling properties in Hudson County. He and his spouse make their home in Jersey City. In addition to his ministry and secular work he conducts collection campaigns for area homeless shelters and food pantries and visits them weekly. He also is an avid animal rescue volunteer and advocate and several times a year participates in monthly rescue caravans driving a van to and back from Georgia for Animal Aid USA which rescues hundreds of animals monthly from high kill shelters.
He is of the firm belief that God's love is unconditional and freely given to all regardless of life's circumstance and without exception. Father Paul believes that the Church should be a beacon welcoming all to come and experience the healing love of God. No one is unwelcome in God's house or at God's table, for any reason.
Father Paul was ordained to the ministerial priesthood of Jesus Christ for the Roman Catholic Diocese of Bridgeport, CT in May, 1981.
He is a 1981 graduate of Mount St. Mary's Seminary and University, Emmitsburg, MD, from which he holds Master of Theology and Master of Divinity degrees. If you would like to contact our pastor you may email him at pgulya@anccmail.org or by phone at
(201) 838-8560.
Deacon Pat Kane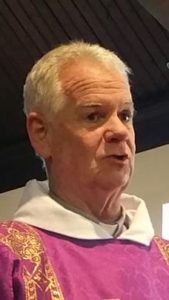 Having been a longtime member of St Francis of Assisi ANCC Parish in Glen Ridge, New Jersey, Deacon Pat was ordained to the diaconate in December, 2016. As part of his ministry he serves two weekends a month at Sacred Heart of Jesus ANCC parish and two weekends per month at St. Francis of Assisi ANCC Parish. Additionally, his ministry includes serving the spiritual needs of residents at Arden Court Alzheimer Care, Branch Brook Assisted Living Facility and working at the Pierre Toussaint Food Pantry at St. Benedict's Prep. He also organizes and leads the liturgical ministers at St.Francis of Assisi ANCC. He serves with Father Paul Gulya as the Vocations Directors for the ANCC.
Deacon Pat retired from the NYC public school system after 30 years of service where he worked with high risk children.He was a community organizer in Chicago, Toledo and Bed Stuy. From 1966 to 1976 he was a Jesuit scholastic.
His wife Abby is also active in the ANCC and is the love of his life. They have two adult sons.
Deacon Pat says that he is "truly happy to be serving Jesus in a capacity that he thought had been closed to him many years ago." He further states that he is "ready and willing to be of service to the people of Sacred Heart of Jesus ANCC and thanks them for welcoming him into their parish community."
Rev. Vincent McTighe (Pastor Emeritus- Retired)

Father Vincent was ordained a Roman Catholic Priest in 1972 for the Diocese of Paterson, New Jersey. He attended Immaculate Conception Seminary in Darlington, NJ, where he received a Master of Divinity degree. Fr. Vincent served in different parishes throughout northern New Jersey. He also was appointed the first Executive Director of the National Federation of Priests' Councils headquartered in Chicago.
Fr. Vincent has held various management positions in North Carolina, Vermont and New Jersey. Most recently he was Human Resources Specialist for Community Services – Meals on Wheels – of Ocean County New Jersey, which provides nutrition programs and benefit screenings for the elderly, especially the home bound.
Father Vincent McTighe, is the co-founder of Sacred Heart of Jesus ANCC parish and headed the parish for several years. Recently retired, is now pastor emeritus of Sacred Heart of Jesus American National Catholic Church parish.
If you wish, you are welcome to contact Father Vincent at:
Or call 732-908-3191